Learn more about keeping your dog safe in the car, for car rides or long distances with these Tips for Keeping your Dog Safe in the Car.
---
How Can I keep my dog safe in the car?
---
Whether for long distance adventures, or brief trips and errands, dogs love to ride in cars.
It's important to keep your dog restrained in the car, just like any other passengers, according to the Center for Pet Safety.
The Center for Pet Safety uses MGA Research, which is an independent laboratory used to test with canine dummies. They have conducted independent tests of safety standards for dog crates, carriers, and harnesses.
The upshot is that they make cars to keep humans safe; they are not made to keep our dogs safe in them, whether riding in a car or off-roading with your pets.
---
---
---
---
Keeping a Dog Safe in the Car
---
With an accident, driver distraction, or stopping abruptly, your dog can become a dangerous projectile in the car.
Dogs like to roam around the vehicle which can not only lead to a big mess, but it can also distract you while driving.
Further, dogs can easily become injured in the event of an accident, and they can even injure the driver or other passengers.
---
---
Road Trip Safety with Dogs in the Car
---
So while cars and dogs go together like peanut butter and jelly, car rides or road trips with your dogs come with an inherent risk.
It's not always easy to keep dogs safe in the car, even though most of us love to have our pets ride with us. It's up to us to figure out the best way to keep our dog's safe in the car.
Keeping your dog safe in the car should be your number one priority, and there are plenty of ways to do it!
Following are some great tips for keeping your dog safe in the car.
---
---
Traveling with Pets: Pet Car Safety
---
The most effective safety harnesses are the ones designed to hold a dog in the same position as a child sitting in its car seat.
The primary way to keep your dog safe in the car is to limit the amount of free space they have to roam.
The easiest way to do this is to secure them so that they can relax and have fun in a safe and comfortable manner.
Securing your dog means they cannot pose a risk to you or themselves, while still enjoying the benefits of the car ride.
---
---
What is the Safest Way for a Dog to Ride in the Car?
---
Have you searched for a "dog seat belt" on Amazon only to bombard with options. Most of these options are cheap and unproven, some with questionable manufacturers!
A dog specific seat belt harness is the safest and most fail-proof way of having your dogs ride with you in the car.
---
---
---
---
The Load Up Harness from Ruffwear keeps your dog safe while traveling.
They have built the harness for safety. And successfully tested to withstand a vehicle car crash test. The Load Up Harness has been strength rated for all metal hardware and components.
It quickly attaches to your cars, existing seat belts, while allowing your dog to stand, sit or lay down.
The Seat-Belt harness simply feeds the seat-belt through the attached seat belt loop on the harness, then buckles it into place.
I love this harness because it incorporates the cars, own seat belts. This allows it to lock into place if there is an impact or sudden forward motion. You can also attach this to the primary connection point provided in your car for a child's safety seats.
The harness rests against your dog's chest and abdomen area, which makes it one of the best doggy seat belts to consider for your pets.
While we consider this harness the best by the Center for Pet Safety and is the safest way to include a doggy seat belt in the car, it's not for everyone.
Let's review some other choices.
---
---
Car Hammocks and Seat Belts for your Furry Friend
---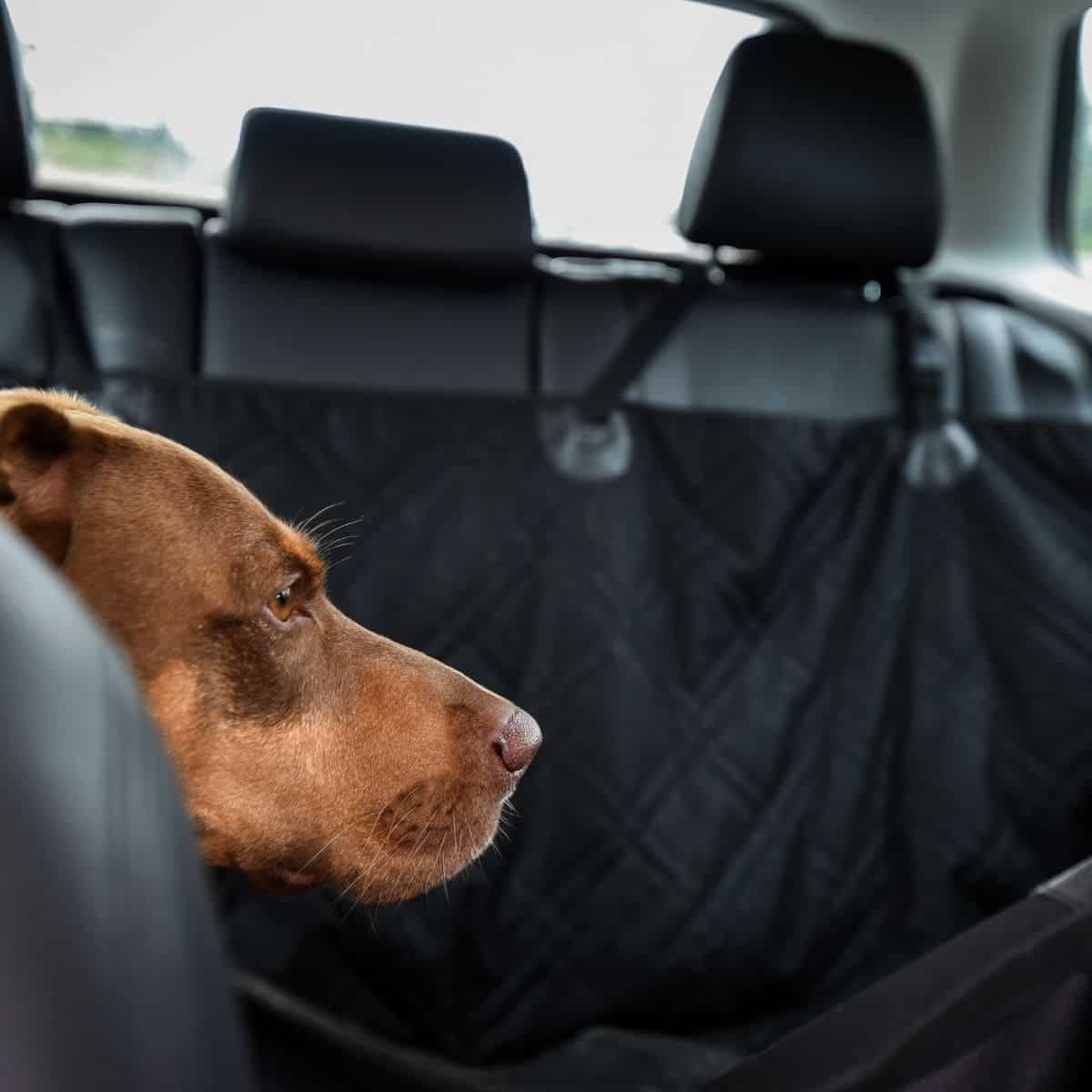 ---
---
Cheap and effective, pet hammocks are fantastic as they can fit any car's backseat. They are easy to install as well, simply take each corner and clip it around the back and front headrests of your seats.
The hammock then allows your dogs to lounge in the back while you are driving. Not only does the hammock keep from your dogs getting the seats dirty, but it also prevents them from poking into the front area and distracting you.
The hammock prevents the dog from being thrown forward in the event of a sudden stop or even an accident.
The key thing to watch out for is to make sure that the hammock is not too slick, as that can be a problem for your dog.
Make sure that the hammock is attached to the seat belt tab and seat belt.
---
---
Car Harnesses
---
Car Harnesses are preferable for better behaved dogs as they secure the dog to the seat, like a seatbelt. When using a car harness to practice pet care safety, consider trying it out at home before hitting the road.
If your dog gets too antsy and tries to break free of the harness, it can pose a bigger problem for the both of you. You can also use the harness in tandem with other pet items such as car seats.
For smaller dogs, consider getting them a carry box to use in tandem with a harness. A carry box keeps your pup secured while raising them up a little, giving them a more optimal car ride experience.
---
---
Crates
---
If your dog is comfortable with it, a crate might be the perfect way to secure your dog while riding in the car.
The crate is guaranteed to keep them from wandering around and affords the perfect opportunity to take a nap!
Of course, there are many ways to make your dogs crate more comfortable, which is recommended for longer trips. Consider putting your dog's favorite blanket or a soft toy in with them.
---
---
Barriers
---
Sometimes it's just not possible to have your dog ride in the backseat with you. Primarily if you have every seat taken by a human.
In these instances, a cargo barrier works well in these situations.
A cargo barrier will help prevent your dog from being a projectile that could injure your pet or even yourself.
Cargo-Area Pet Barriers is expandable to allow for a variety of vehicles, if you want to take your dog with you in the car.
The PetSafe Solvit Pet Barrier allows you to put your pup in the back, allowing them to be contained.
These barriers are not the safest in ultimate crash safety. In the event you have no seat available, it's the next best option.
---
---
Additional Tips & Tricks
---
---
---
Trial Runs Are The Key To Success
---
Never take your dog on a long trip to start, for a variety of reasons.
Dogs can get carsick, so always practice at home on brief trips before embarking on a big one.
You never can fully expect what your dog will do on the road, so keeping it small allows you to correct behavior and make adjustments with ease.
You should also let your dog try out any equipment that they will need to use in the driveway, then on a quick trip. This way your dog has time to adjust and work out the bugs.
---
---
Don't Let Your Dog Hang Out The Window
---
We all know how much dogs love to hang out the window, but doing so can be incredibly dangerous.
First, your dog's eyes can easily dry out leading to health complications.
Your dog can get struck by a random object while driving, which can cause serious injury to them.
Not to mention, there is the risk that they can jump out if the window is down too low.
---
---
Feed Them Before The Trip
---
It is typically not a good idea to feed your dog while on the trip, as that can lead to nausea in the car. We recommend you feed your dog about three hours before setting off.
Keep in mind that you should never feed your dog while actively driving. Your dog can choke on treats and food because of the movement of the car, and that is a situation you never want to find yourself in.
---
---
Plan For Frequent Bathroom Breaks
---
You should always factor in frequent bathroom breaks when planning for a trip and always take your dog out to relieve themselves before setting off.
Dogs need frequent breaks to get out of the car, stretch, and take care of themselves while burning off some energy.
You should plan to stop for about ten minutes every hour, especially during your dog's first few car rides.
---
---
Final Thoughts on Having Your Dog Ride with you in the Car
---
Car rides can be a fantastic experience for dogs, but there are some safety concerns that you should know.
Dogs are unpredictable in the car, and can pose a risk to you, themselves, and others.
However, do not assume that car rides are inherently dangerous or should be avoided. With the proper planning, your dog is guaranteed to have a safe and fun time in the car, and you can rest easy.
With the tips on this list, it is easy to keep you and your dog safe and happy on car rides long and short.
The key thing to remember is that planning makes perfect and to allow time for adjustments. Dogs love car rides, and we love our dogs, so go out there and make some fantastic car riding memories.
Whichever way you decide to keep your pet safe in the car, verify certification of your pet's restraint through the Center for Pet Safety.
---
---
Tips for Keeping your Dog Safe in the Car