Dogs with Autism Causes and Symptoms
If your dog has any symptoms of autism, such as repetitive behaviors or lack of social skills, there are ways to help him overcome his challenges.
Can dogs be autistic? We have asked this question since the dawn of time. The answer is yes. Dogs can indeed be autistic.
And they can also suffer from other disorders such as anxiety, obsessive-compulsive disorder (OCD), separation anxiety, and phobias.
---
---
Can dogs be autistic?
---
Dogs can also be born with autism. It's called canine cognitive dysfunction, or CCD.
According to researchers and animal behaviorists, dogs who experience chronic pain exhibit certain behavioral characteristics, including being too aggressive towards their owner, creating too much noise in the house, having poor sleep patterns, lacking social interactions with other animals, and reacting slowly to certain situations.
---
---
---
What are some causes of dogs with autism
---
There is no single cause for canine cognitive dysfunction (CCD). It could be a combination of several factors. It might be a genetic thing. Most of the dogs exhibiting autistic behaviors were born with these conditions.
American College of Veterinary Behaviorists (ACVB) conducted studies to observe how dogs suspected of having autism interact with other dogs, people, and the environment they live in. They believe one cause of autism in some dog breeds may be because of a lack of neurons in their brains.
Neuronal cells allow dogs to mimic the behaviors of other dogs. If these nerves don't exist, the puppy won't be able to perform its normal functions. They may experience varying levels of behavioral difficulties.
These animal behaviorists observed that most male dogs were prone to chasing their tails compared to female dogs after conducting a tail-chasing study on Bull Terriers. Dogs that showed these behaviors were also more aggressive and difficult to train than dogs that didn't show them.
It is difficult to pinpoint exactly what might have caused dogs with autism. If the condition is genetic, there is little you could do about it because it is irreversible. You can't really do anything except maybe to treat your dog for the condition.
Next up, let's talk about how you'll know if your dog has autism.
---
---
What are the symptoms of CCD in dogs?
---
It may be very hard to understand or diagnose canine dysfunctional behavior autism (CCD) in pets.
It's not possible to tell whether your dog has autism just by looking at him. If you think your dog might show too much aggression, talk to your vet.
They will assess the situation and then likely refer you to an animal behavior specialist for further help.
Here are some symptoms to watch out for when trying to determine whether your dog has CCD.
---
---
1. Communication issues in dogs with autism
---
Dogs will always tell us when they're happy, sad, or angry. Your dog will greet you when you get home by waggin' his tail and making happy yelps. They're very playful and excitable when they're happy.
If they're sick, you'll know. They're usually shy and very reserved. They may lie in a particular spot for a long time and probably give off low growling sounds to show that they're feeling pain and discomfort.
If they don't show any of these signs, and if their mood and emotion don't change, then you should probably see a veterinarian.
Another red flag would include finding them staring into space for long periods with no response. If they enter a trance without warning, it may show something else going on.
---
---
2. Destructive traits
---
If dogs get too anxious when left alone, they may become destructive. They are social animals who need attention from their owners.
When left alone for too long, they become destructive. They will bite and gnaw at anything they can find. Often, they will bite into furniture. This may not show autistic behavior.
If the destructive behavior continues even after you've given them the attention they need, then there should be a reason for worry.
---
---
3. Antisocial behavior
---
Most dogs are social creatures. They love being pampered and they love having fun with their owners. If your dog avoids any form of social interaction, look into why he might do so.
If you notice that your dog is acting strangely when you're trying to feed him, then you should probably be concerned.
If your pet seems less enthusiastic than usual when you go for a walk, or if he/she is shy towards new people, then you should visit your vet for an accurate diagnosis.
---
---
4. Being unusually tired
---
If your dog seems unusually tired even after having exercised regularly, check to see whether there is anything wrong with them. Try to get them interested in doing some other physical activities around the home.
If they don't want to take part in these activities and prefer just to lie down, there could because for concern.
---
Disclosure: Some of the links in this article are affiliate links (Amazon Associate or other programs we take part in). As an Amazon Associate, I earn a small commission from qualifying purchases.
---
5. Unexpected reactions to stimuli
---
Your dog might surprise you by reacting unexpectedly and inappropriately in certain situations. If your dog reacts aggressively when touched by your hand, it could mean he has an issue.
If you find your pet cowering under a bed, in some lonely corner of the house, there's a good chance he's trying to escape something. Just like how autistic children react negatively to loud noises and bright lights, your dog may have similar reactions to unfamiliar sounds and smells.
---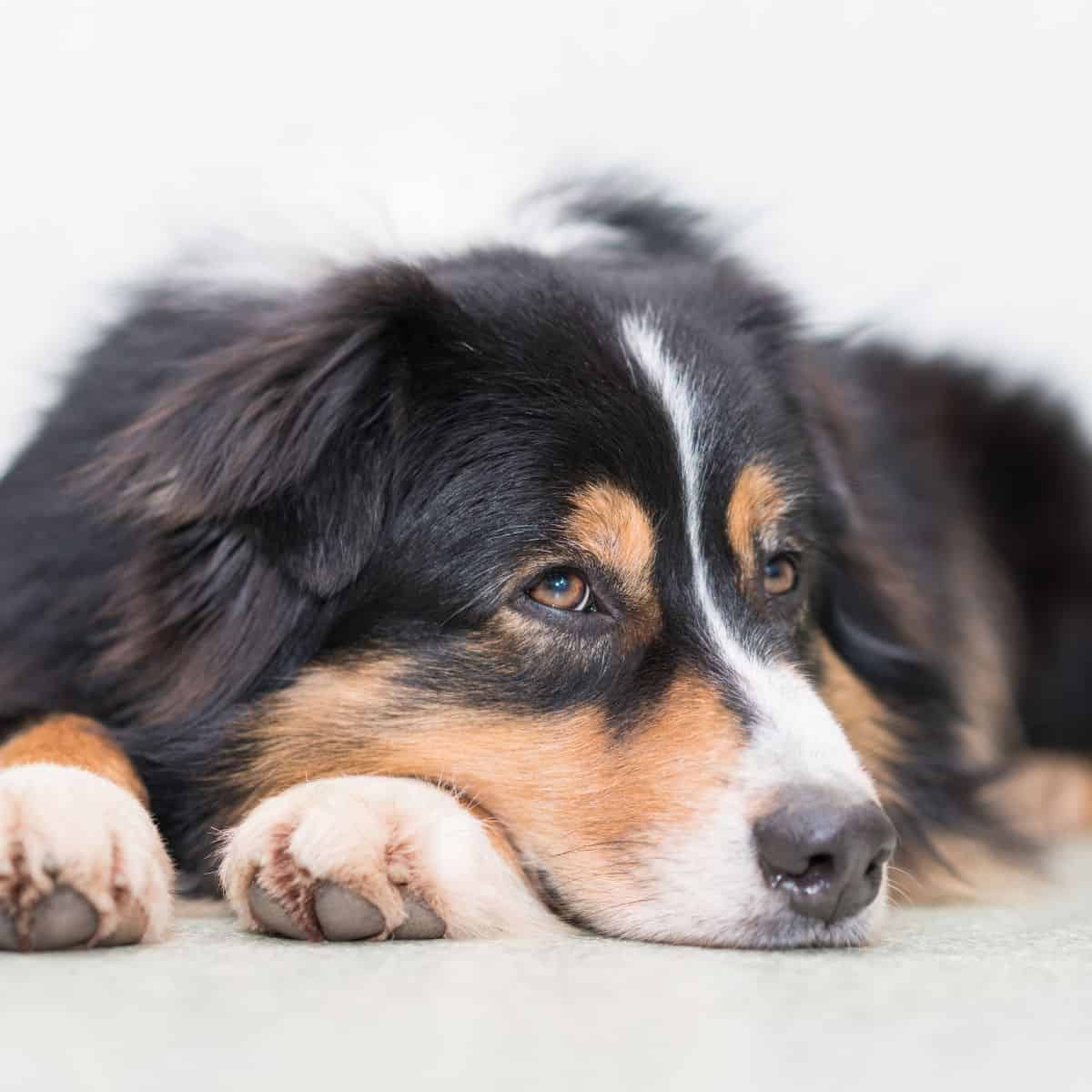 ---
How can dogs with autism be treated?
---
It would be best to wait until a veterinarian and an animal behavior specialist offer you a full diagnosis before starting treatment. They will always offer recommendations on what to do.
Some recommendations to treat an autistic dog include;
---
---
Positive reinforcement
---
Dogs can be trained to handle their condition.
You might want to consider looking for a good trainer who uses the concept of positive reward to help your dog overcome his problem.
You might want to ask if anyone else has had experience working with similar dogs before.
---
---
Ensure they are not in a stressful environment
---
Stressful environments will only increase your dog's stress levels. Always ensure that the dog is living the way they want.
If they do not like visitors, minimize the interactions the dog has with other people and other pets.
---
---
Keep them busy
---
If you exercise your dog often, you will distract them from other distractions and this will help reduce their stress. It might also be helpful for them to avoid compulsive destructive behaviors, which could include self-harm.
---
---
Keep them safe and happy
---
Watch how your dog reacts when meeting new people and animals and then adjust your behavior accordingly.
The goal is to create the safest environment for the dogs to live in. If they don't feel comfortable in their current living situation, they might become anxious. Anxious people often engage in compulsive behaviors.
---
---
Medication
---
If none of these suggestions work, you may want to consider putting your dog on medication. Make sure you follow the rules of your veterinarian and your pet's behavioral specialist to ensure that you give the right dose at all times. The goal of the medication is to calm the dogs by reducing their anxiety level.
If none of the suggestions above works, then you might want to hire a professional dog behaviorist to see if they can teach your dog some new tricks. It might take some time before you see results.
---
---
Pin It and Save It For Later
---
---
---
5 Symptoms of Dogs with Autism