Easy Homemade Dog Treats
Research shows that dehydrated strawberry peanut butter dog treats are harmless for dogs, but always ask your veterinarian if you're uncertain about feeding them to your four-legged friends.
Strawberry lovers, rejoice! Summer is just beginning!
Freshly picked strawberries are now available at your local grocery store.
While strawberries are delicious snacks on their own, why don't you make some homemade dog treats? They're both delicious and they'll make your dog love you even more than before.
These strawberry peanut butter treats are made from natural ingredients, but they aren't overly processed.
They're healthier than the store- bought treats you buy at the grocery store.
These treats are also simple to make, and because they'll be eaten quickly by your dog, you won't have any leftovers to spoil.
Peanut butter is one of dogs' favorite foods. It's always good to keep your pet's interests in mind when making homemade treats.
Our dogs would eat just about anything when they were hungry. Fortunately, you can make tasty snacks for them without worrying too hard about what's really in it.
---
---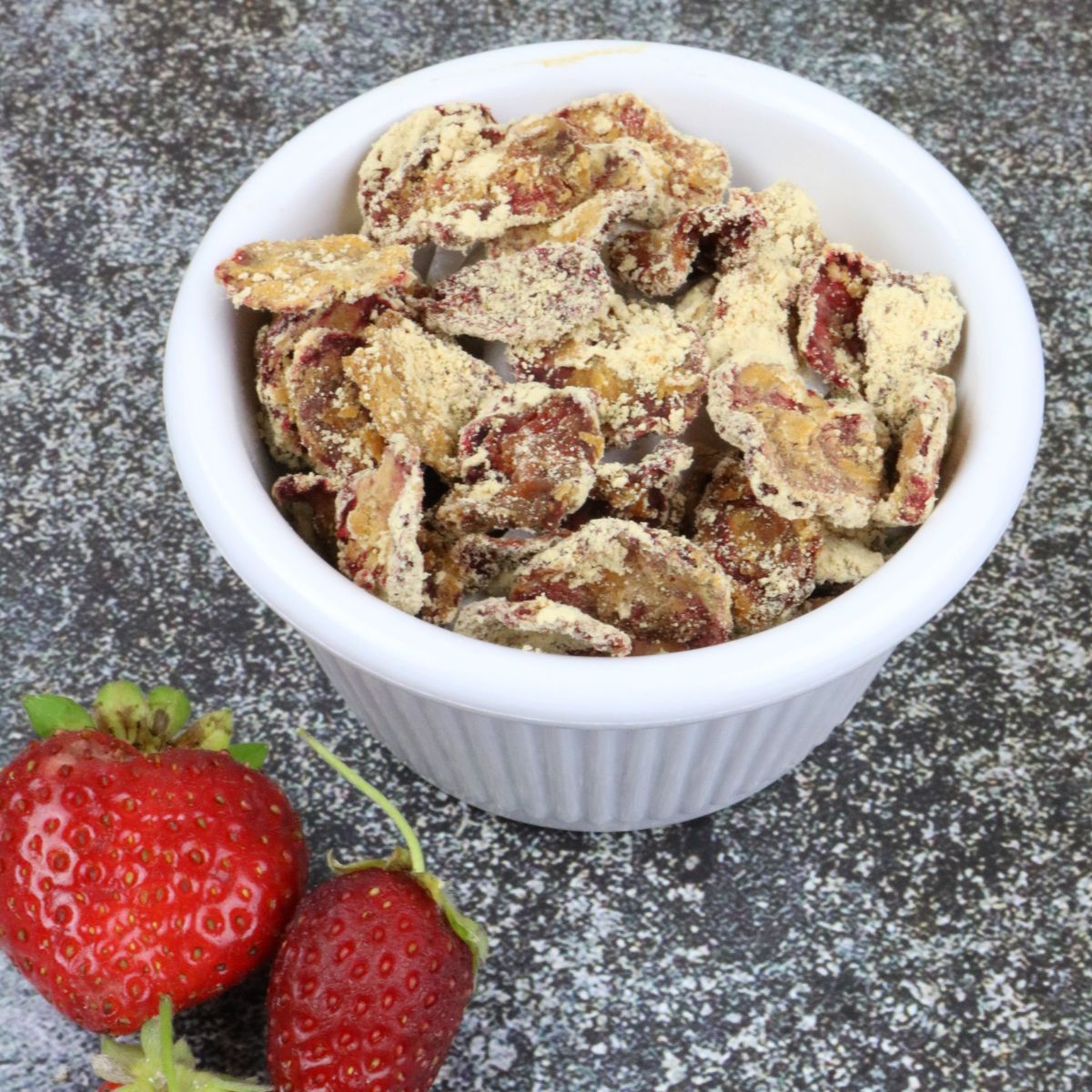 ---
---
Disclosure: Some of the links in this article are affiliate links (Amazon Associate or other programs we take part in). As an Amazon Associate, I earn a small commission from qualifying purchases.
---
Strawberry Puppy Treats
---
These easy-to make homemade dehydrated strawberry peanut butter dog treats are certain to make your furry friend's tail wag.
The recipe requires only 2 ingredients, many of which you probably keep on hand at all times.
Fresh strawberries and peanut butter powder blended together to make a fun and flavorful treat any pup would love to crunch and munch.
---
---
Treating Your Dog With Strawberries
---
Strawberries are a superb choice for homemade puppy treats since they are packed with antioxidants, high in fiber and even contain an enzyme which can help whiten your dog's teeth.
It's okay to feed your dog strawberries, but be careful not to give them too many because they contain sugar. Please see our blog post if Dogs Can Eat Strawberries.
Dogs can enjoy strawberries in moderation, just like people. It's best to avoid the seeds for dogs.
---
---
How to Make Dehydrated Strawberry Peanut Butter Dog Treats
---
---
This recipe requires only a few ingredients and even fewer cooking steps. It takes just three easy steps to create a delicious treat for your dog.
Cut off the tops of the strawberries and slice thin.  
Lay the slices on the dehydrator tray. Make sure you space them apart so they are not touching.
Place the trays on the dehydrator and put the lid on. Select 130 degrees F and 8 hours on your dehydrator. 
Remove from the mold and store in a freezer bag or storage container.
Oh, wait! There's just one more step… make sure your pup sits, stays, shakes, or, at the very least, poses for a cute photo. After that, it's time to enjoy!
---
---
Notes for Strawberry Peanut Butter Dog Treats
---
After they are done, allow cooling before storing. They will have a slightly bendable texture to them when done.
After 8 hours, if you notice your slices are still not dry enough, you can add extra time. This can happen if you have cut the slices too thick.
---
---
---
---
Storage
---
After making these strawberry dog treats, store in an airtight container at room temperature for up to 3 days.
Or freeze for up to 3 months in the freezer, removing them as you need them and letting them come to room temperature.
---
---
Other Strawberry Dog Treat Recipes
---
Did you dog enjoy these dehydrated strawberry dog treats? Here's a few more strawberry dog treats you may like to try:
---
---
---
Pin It and Save It For Later
---
---
---
Dehydrated Strawberry Peanut Butter Dog Treats