Dehydrator Pumpkin Leather Dog Treats
Using a dehydrator these pumpkin leather dog treats. Healthy, easy to make pumpkin leather for dogs - it's like a human fruit roll-up.
'Tis the season for all things pumpkin for dogs- but sometimes our doggie pumpkin treats can be a little messy.
That's where pumpkin leather for dogs comes in! In this grab-and-go snack, you'll find all the flavors of a pumpkin pie for dogs. It is also gluten-free and sugar-free.
Have you ever made fruit leather at home? It's like the fruit roll-ups we ate as kids, except this is for dogs!
This dog-friendly treat is made with only a few ingredients and a few basic preparation steps.
Does the recipe omit a key ingredient? It's patience.
It takes four to six hours for the pumpkin leather for dogs to dry out in the dehydrator at a low temperature.
That's right, it takes a while! Plan for the time it takes and you'll be fine.
---
---
---
---
Disclosure: Some of the links in this article are affiliate links (Amazon Associate or other programs we take part in). As an Amazon Associate, I earn a small commission from qualifying purchases.
---
---
---
Using Quality Ingredients
---
You can make your own fruit leather at home, which is an advantage over the store-bought boxes of fruit leather we grew up eating. These homemade dog treats are an improvement for sure.
To start with, you can name all the ingredients in this pumpkin treat. There are no dyes or mystery flavors.
Pumpkin Puree and molasses are the key ingredients. Liver sprinkles amplifies the flavor and really helps to create a great taste for dogs.
Let's look into these ingredients a little deeper. The pumpkin puree, molasses, and the liver sprinkles should be a top quality without added fillers.
Check out the list of ingredients for the pumpkin puree and for the molasses: pumpkin and molasses. Nothing more and nothing less. Knowing that I am using high-quality products is important for my dogs.
---
---
How to make Pumpkin Leather Dog Treats
---
Let's review the steps for making pumpkin leather for dogs together.
Making pumpkin leather is so easy, there isn't much need for a recipe.
It's really just a matter of combining the ingredients in a bowl or a food processor, spreading them out on a dehydrator pan, and allowing them to dry slowly in a dehydrator.
Spread mixture over the fruit tray of the dehydrator.
Hint: Make sure it is evenly spread. You don't want one area to be way thicker than another, as it will take longer to dry. Keep the thickness between ⅛ and ¼ inch thick.
You don't want to see any gaps in the mixture. You also don't want lumps.
---
---
---
---
What's the Magic Ingredient in Making Pumpkin Leather Dog Treats
---
Just like our Peanut Butter and Banana Chips or our Chicken Sweet Potato dehydrator recipe, Patience is the magic ingredient!
The key to baking fruit leather is to wait for it to slowly dehydrate. Just be patient.
---
---
Expert Tips for Rolling Up the Pumpkin Leather Dog Treats
---
Flip the baked pumpkin leather for dogs onto a fresh sheet of parchment paper when done.
For seasonal fun, use cookie cutters to make shapes in the pumpkin leather for dogs. Pumpkins, dog bones, bats, and witches would all be cute ideas!
Use a pizza cutter to slice the pumpkin fruit leather into 3-inch strips. You can keep them flat or roll them up so they are like a fruit roll up.
Roll tightly. The rolls hold their shape.
Store in an airtight container.
---
---
Printable Pumpkin Leather Dog Treats Recipe
---
📖 Recipe
Yield: 40 treats
Pumpkin Leather Dog Treats
Healthy, simple, and tail wagging homemade pumpkin leather for dog treats.
Total Time
7 hours
5 minutes
Ingredients
1 cup Pumpkin Puree, 100% Pumpkin
⅛ cup Molasses
2 teaspoons Liver Sprinkles
Instructions
Add molasses to pumpkin puree. Using a fork or in a blender mix until fully mixed.
Spread mixture over the fruit tray of the dehydrator. Make sure it is evenly spread you don't want one area to be way thicker than another as it will take longer to dry.
Sprinkle the liver over the pumpkin mixture.
Place tray on dehydrator (I used one empty tray below) and then place the lid on. Select 130 degrees and 7 hours dehydrate time.
When done, allow to slightly cool then carefully remove leather from the tray. You may have to use a spatula to help you lift it off as it will stick.
Lay on a cutting board and cut into the size pieces you want. You can also roll them up so they are like a fruit roll/fruit leather.
Nutrition Information:
Yield:
40
Serving Size:
1
Amount Per Serving:
Calories:

7
Total Fat:

0g
Saturated Fat:

0g
Trans Fat:

0g
Unsaturated Fat:

0g
Cholesterol:

1mg
Sodium:

1mg
Carbohydrates:

2g
Fiber:

0g
Sugar:

1g
Protein:

0g
House that Barks does not provide a warranty, express, or implied in relation to any recipes on this website. The recipes are House that Barks personal experiences in making them and feeding to their dogs. Please make note that your dogs may have allergies or other conditions that may make these recipes unsuitable for them or their lifestyle. Please consult with your veterinarian. Use your own judgement when feeding these recipes to your dog. House that Barks is not liable for any upset stomachs or any other outcomes because of experimenting with our recipes on this site.
---
---
Pin it and Save it for Later
---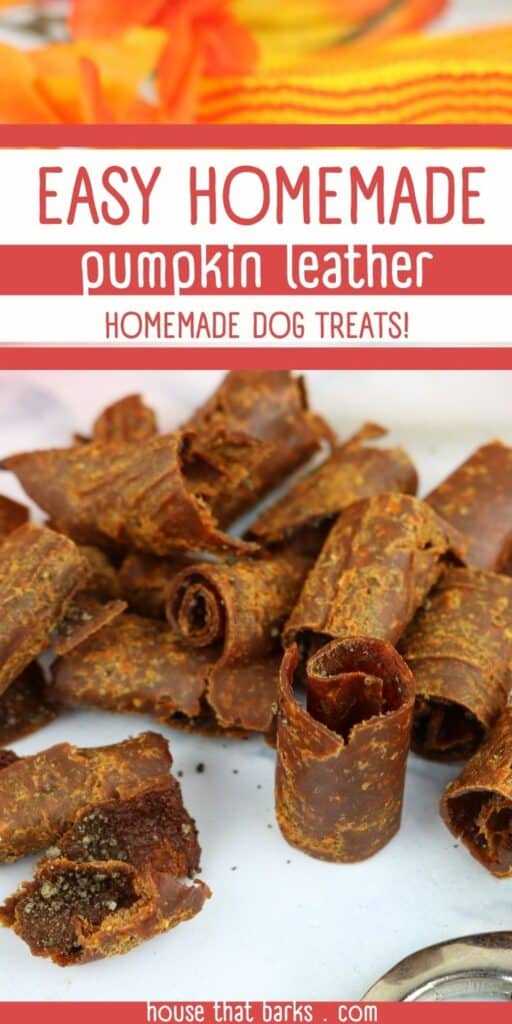 ---
---
Pumpkin Leather Dog Treats